Call Us +91 81455 84286, +91 94348 60604
Tiger
Hill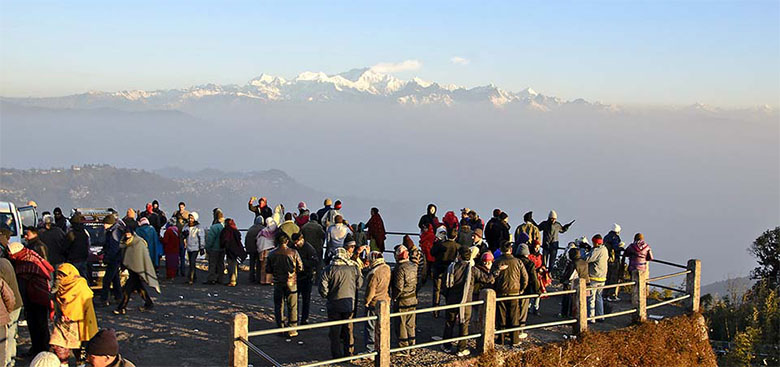 A view more beautiful than a dream with a mesmerizing sunrise, moments which could be cherish lifetime. Tiger Hill is the best point in Darjeeling for watching sunrise. Located at a height of 7,407 feet above sea level, the hilly trails from Jorebunglow through the mountains lead to the hill top. Tiger hill is the highest hilltop in Darjeeling.

You may think what's so special about the sunrise from Tiger Hill but you will be left speechless after you watch the scenario which unfolds during the sunrise. As the horizon spilt in two and dark sky slowly turns crimson while the sunrays glaze the Himalayan Ranges with an orange and golden hue and as the sun rises above the horizon you get to see the majestic Mt Kanchenjunga in its full glory, and the snow top reflecting sunrays making them look like covered in diamond, it's a sight which is bound to leave you spellbind.

Your journey to watch the sunrise will begin from really early hours which will depend on which season you are visiting. If you are visiting during summer you need to make it to the hill top before 4 am and no matter which season it is need to wear warm clothes because it gets quite chilly before the sunrise. View Tower is a place in the hill top from where you can watch the sunrise but you need to get a ticket for the view tower. You can also see the sunrise from the viewing area around the tower and that's free of cost.

Chilly weather with a hot cup of coffee or tea enjoying the view lit by the mesmerizing sun is like getting a glimpse of heaven on earth and you can enjoy this in Tiger hill which is only 11km from Darjeeling. Sunrise is not the only thing which attracts visitors to Tiger Hill it is because of the environment you can feel at the hill top and the panoramic of the valley which will take your breath away. If you love trekking you trek your way towards the hilltop or down the main town and bask in the glory of the nature.
Quick Inquiry