Ghoom
Monastery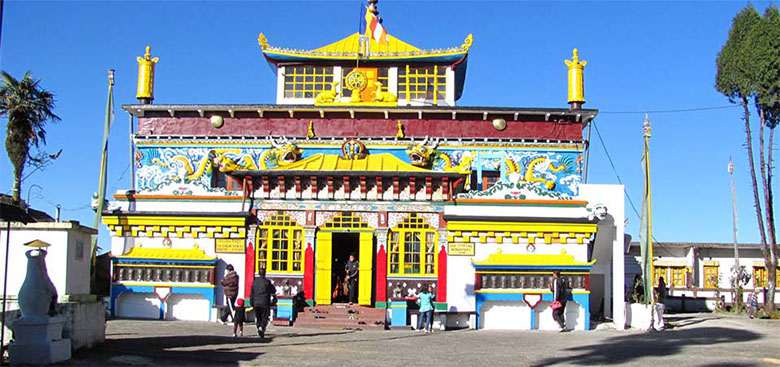 Yiga Choeling Monastery or popularly known as the old Ghoom monastery is one of the oldest Tibetan monastery built in Darjeeling. Nestled at a distance of approximately 8 km from the heart of Darjeeling, Ghoom Monastery is one of the major attractions in Darjeeling. The Ghoom Gompa was founded by a Mongolian astrologer/ monk in the year 1875. The place is also well-known as Yogachoeling Gompa. One is greeted by a huge 'Maitreya Buddha' statue at the entrance gate of the Gompa. Visitors also find bells, ornate thanka scrolls as well as drums inside the Gompa.

The Ghoom Monastery also called the Sakya Monastery is an age old monastery of the Sakya order. A 4.57 meter high statue of Maithreya Buddha is the primary attraction of the monastery which attracts people from far and wide to come here along with the monastery's exquisite scenic beauty. In 1918, the 15-foot clay image of the Maitreya Buddha, built at an expense of Rs 25,000, was unveiled. You can take the picture of the holy monument in a reasonable price of 10rs which will be added in the donation box for the maintenance of the monastery.

The old Ghoom monastery is full of historical artefacts like some rare Buddhist manuscripts, which can hardly be found anywhere else. The monastery is also a storehouse of Tibetan translations of famous Sanskrit works, such as the Meghdoot by Kalidasa, Nagamandala by Sriharsa and Nyaya Krit by Dharmakriti, to name a few.The interiors of the monastery are filled with Tibetan style wall murals depicting stories and historic events from the life of Buddha. To get inside the main temple you need reach there before 4pm.

The Ghoom Monastery is a place with serene ambiance, where you can catch a glimpse of a monk's life and even indulge yourself during their playtime. Away from the hustle and bustle of the busy life, soak yourself with all the history behind the painted walls of the monastery which the monks will be glad to explain it you and get a sense of peace and tranquility and if you are lucky you can get the view of majestic Mt. Kanchenjunga. Apart from the visit inside the monastery it is also the best place to buy reasonably priced Tibetan curios like prayer wheels, prayer flags, singing bowls, thangkas (wall paintings), and Buddha heads. Spread out on the tracks of the Darjeeling toy train, it's a sight to watch the market fold and unfold as the Toy Train takes rounds of the area.