Padmaja Naidu
Himalayan Zoological Park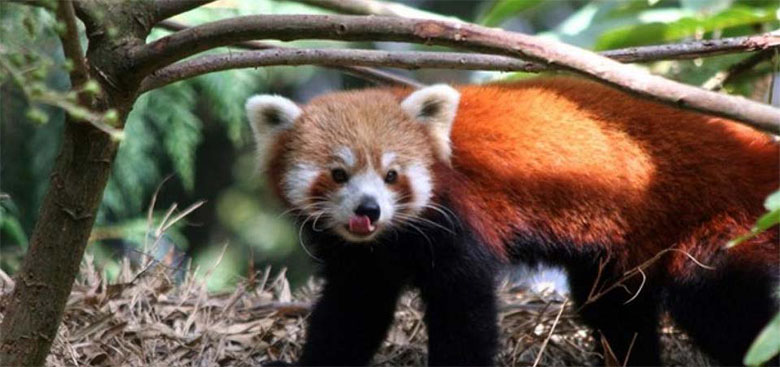 Darjeeling is also known as Queen of hills, known for its scenic beauty. Darjeeling also helps in conserving flora and fauna of the region and we can see it in Padmaja Naidu Zoological Park. It was named after the daughter of Sorojini Naidu 'Nightingale of India' or as local calls it Darjeeling Zoo. Padmaja Naidu Himalayan Zoological Park is the only specialized Zoo in the country and is internationally recognized for its conservation breeding programmes of Red Panda, Snow Leopards, Tibetan Wolf, Siberian Tiger and other highly endangered animal species of Eastern Himalaya. Padmaja Naidu Himalayan Zoological Park is the largest high altitude zoo situated on 7000ft above the sea level in India and also one of the best zoos in India which has received the international 'Earth's Heroes' Award in 2014 out of 300 zoo worldwide.

Padmaja Naidu Himalayan Zoo has the most uncommon variety of wild animal like the snow leopard, Himalayan wolf, clouded leopard, red panda, Himalayan black bear, Himalayan deer, birds like lady Amherst pheasant, etc along with other animals like Sambar Deer, Blue Sheep, Himalayan Tahr, Barking Deer, Goral and Musk Deer which attracts lacs of visitor every year from all around the world. The zoo also has a Aviary, a huge circular bird's cage with different kind of birds like are the colorful birds like Rose Ring Parakeets, Hill Mynas, Ring Necked Pheasants, Blue Gold Macaw and many others but the most eye catching ones are the two very large size birds of yellow and blue combination that look like some species of parrots.

Surrounded in a forest environment admits the rocky mountain, Padmaja Naidu Himalayan zoo is only in a 20-30min downhill walking distance form Chowrasta Mall Road opened 365 days except for Thursdays. With approx amount of Rs.50 you can enjoy the wonders of animal kingdom in Padmaja Naidu Himalayan Zoo. For all the people who love to know more about the herbal plant, tree and endangered species and want to observe them in their semi-natural habitat from a close distance Padmaja Naidu Himalayan Zoological Park, Darjeeling is the place for you to visit since it is the safe haven for the vulnerable and endangered species of the Himalayan Region.