Call Us +91 81455 84286, +91 94348 60604
Mahakal
Temple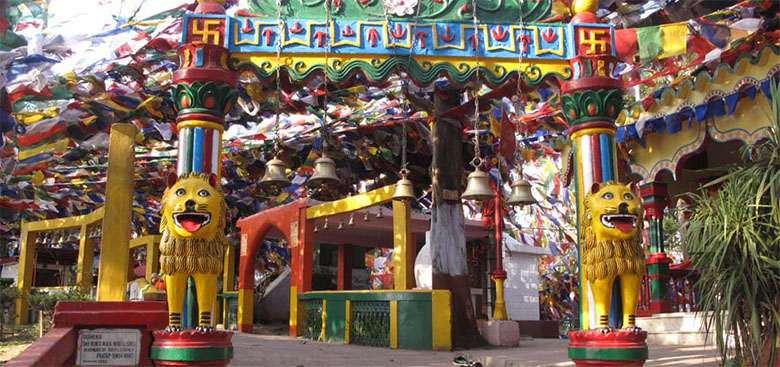 On top of the hill just behind the main square on the summit lies a beautiful temple. Mahakal Mandir or Mahakal Temple, and is perched right on the Observatory Hill, a Hindu temple with Buddhist Priests and Hindu and Buddhist worshippers. A beautiful amalgamation of Hindu and Buddhist cultures, Mahakal Temple stands as a magnanimous and historical edifice at the place where a Buddhist Monastery by the name of 'Dorje Ling' once stood. Legends says that shiva-lingas representing Brahma, Vishnu and Maheshwar have manifested themselves here in the year 1782, and hence emerged the Mahakal Temple of Darjeeling, a much revered and believed religious shrine of Darjeeling.

View from observatory hill on a clear day, you can see the entire range of peaks all around through the trees including the third highest peak of the world, the mesmerizing Kunchenjunga that stands solemn and majestic amidst fog rising deep down from the valleys. You can actually see as far as Sikkim and some twelve peaks from here, all snow covered and all having heights over 20,000 feet (or 6,096 meters). And on the slope of the hill that goes below down to the Mall road, you can see lovely colorful flowers on the lush greenery. The Observatory Hill is actually quite rich in flora and fauna. It's a great place for bird watching. One thing remains constant here the chirping of the birds.

Mahakal Temple is located behind the Chowrasta and encircled by the Mall Road. The approach to the narrow road that goes all the way is about 100 yards from the Mall. It's an uphill walk for about 15 minutes but the view is worth it. Feel the peace and calmness seep inside you after you reach at the hill top. Surrounded by colorful prayer flags and the sound of tinkling bells can leave you fascinated. But beware you won't just see prayer flags since the Mahakal temple is home for many monkey so be careful while carrying your stuff they tend to snatch it thinking its food . Apart from that they are harmless and quite fun to watch. Mahakal temple is the place to see the scenic beauty and to find peace and tranquility at once.
Quick Inquiry