Call Us +91 81455 84286, +91 94348 60604
Japanese
Peace Pagoda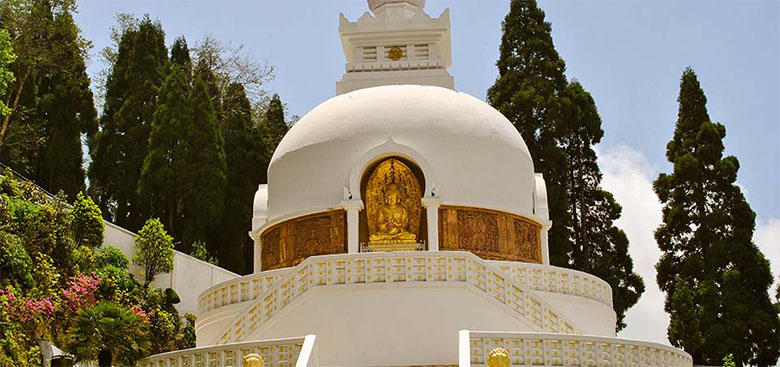 On the edge of the hillside at the end of AJC Bose Rd, stand a gleaming white pagoda which is one of more than 70 pagodas built around the world under the supervision of Buddhist Monk, Nichidatsu Fujii or popularly known as Fujii Guruji who was also the founder of Japanese Buddhist Nipponzan Myohoji organization. Japanese peace Pagoda and Japanese Temple is one of most famous place in Darjeeling West Bengal. Named aptly as 'Peace' Pagoda, the tranquility of the place can hardly be expressed in words. Japanese peace pagoda is a revered place which is believed to be the symbol of spirituality and peace.

The foundation for Japanese Peace Pagoda was laid down by Fuji himself, on 3rd November 1972. However, this Pagoda was inaugurated after his death, in 1992, by his senior most disciples. Fujii Guruji was immensely inspired by Mahatma Gandhi. Distressed by the Hiroshima Nagasaki bomb drop Fujii Guruji decided to promote non-violence and peace throughout the world and started constructing Peace Pagoda or Shanti Stupa as shrines for world peace.

There are four iridescent, gold-polished statues of Buddha and adorned on the peace pagoda walls with eight sandstone carvings, narrating stories of different stages of Gautama Buddha's life. Visitor can get a 360° panoramic view of the Darjeeling and Mt. Kanchenjunga on a clear day from Peace Pagoda making Japanese Peace Pagoda an ideal pictorial place and after viewing the magnificent sight you can get the feeling of inner peace in Japanese Temple Nestled in the vicinity to the pagoda. Prayer hour in the Japanese Temple are from 4:30 am - 6 am and same time at the evening. If you visit during the prayer hour you get a chance to see the praying ritual and get included yourself, is not it a great way of learning another culture. Getting here involves a pleasant, gentle 30 minutes walk from Clubside junction along Gandhi and AJC Bose Road, past the curiously named Institute of Astroparticle Physics and Space Science.

Scenic view with a calm environment amidst the nature, it's a treat for both eye and soul. Japanese peace pagoda or the peace monument has always been the sign of brotherhood and harmony and one can spend hours listening to the low humming of monk chanting in the temple leaving the visitor with a sense of serenity. The tranquility at the Peace Pagoda in Darjeeling should be experienced to be believed!
Quick Inquiry