Call Us +91 81455 84286, +91 94348 60604
Ava
Art Gallery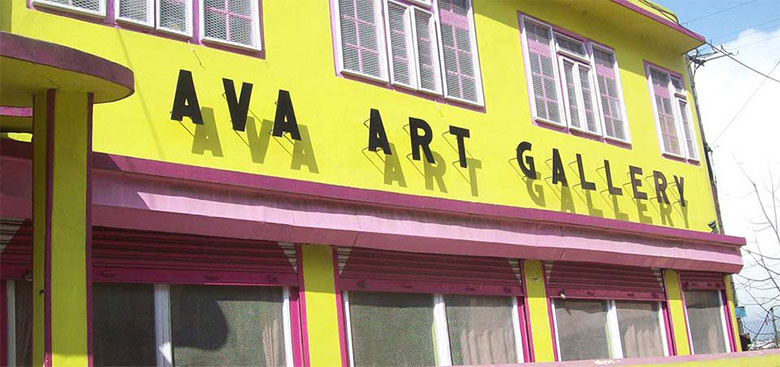 Some people are born to make great art and others are born to appreciate it... It's a kind of talent in itself, to be an audience, whether you are a spectator in the gallery or you are listening to the voice of the world's greatest soprano. Not everyone can be an artist. There have to be those who witness the art, who love and appreciate what they have been privileged to see. A flamboyant yellow and purple coloured two-storey building, on the Hill Cart Road, catches your attention as you drive down the highway towards this scenic hill station.

At the outskirts of the town and 4km (i.e. some 2.5 miles) away, Ava Art Gallery was jointly established in 1965 by the Late Bhopal Rao Sett and Ava Devi who was known as a genius of embroidery art, Ava Art Gallery is the only gallery of its kind in Darjeeling.

There are few who love art and if you are one of them then your visit to Ava Art gallery will be worth it. A permanent collection of 60 pieces of finely detailed artwork of Ava Devi including water, oil and thread paintings. There are two special paintings in the gallery that you must not miss. One is called "Still Strong" and the other "Torture" that reflect Ava Devi's outstanding talent and skills in the field of artwork. There are also many other traditional paintings in the gallery. You can see some delicate handmade embroidery and Silk appliqué as well. The silk work has been done by splitting the silk thread some 20 times.

To refresh your mind and know more about art you can visit Ava Art gallery which is in a 10 mins distance from the main town Darjeeling. With a mere amount of 2rs you can learn more about the exquisite art form of mid 60's. "I believe art is utterly important. It is one of the things that could save us. We do not have to rely totally on experience, if we can do things in our imagination... It's the only way in which you can live more lives than your own. You can escape your own time, your own sensibility, your own narrowness of vision." - by Mary Oliver. Do not let the outer façade of the building fool you if you really love art or want to learn Ava Art Gallery is a place of hidden treasure in this beautiful hill station Darjeeling.
Quick Inquiry