Call Us +91 81455 84286, +91 94348 60604
Rock Climbing
in Darjeeling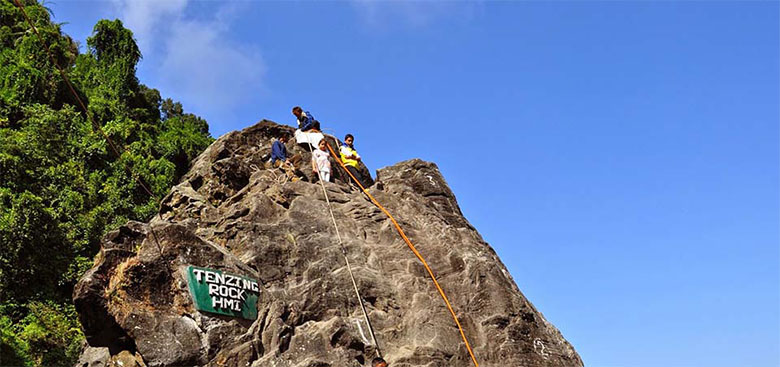 It's not the mountain we conquer but ourselves. Rock climbing is one of the adventurous activities in Darjeeling for those who love challenge and excitement. Rock climbing is an activity in which you will climb up or across natural rock formations with the goal of reaching the summit of a formation or the endpoint of a pre-defined route. Rock climbing is generally differentiated by its need for the use of the climber's hands to hold his or her own weight in order to make balance.

Rock climbing is a physically and mentally demanding sport, one that often tests a climber's strength, endurance, agility and balance along with his or her mental control. Tenzing Rock, the only natural rock climbing site available in Darjeeling has varied climbing routes with diverse features that cater to different levels of climbers and their caliber. Starting from 20 ft to 80 ft. Tenzing Rock, a gigantic natural rock in Darjeeling is named after Tenzing Norgay, the man who created history by climbing the Everest first time along with Edmund Hillary in 1953.

Opposite to this is the Gombu Rock named after Nawang Gombu, nephew of Tenzing who was the first person to climb the Everest twice, once in 1963 and then in 65. He took over as the Director of Field Training at Himalayan Mountaineering Institute after Tenzing retired in 1976. Both these rocks are used for rock climbing training by HMI.

You can't fall if you do not climb. But there is no joy in living your whole life on the ground. Tenzing Rock is one place in Darjeeling where you can boost your adrenaline rush. You might be thinking this is just for the pro climber and you don't even know the basic but fear not since in Tenzing Rock even if you are inexperienced you can do the rock climbing with the help of a guide. Tenzing Rock is an excellent place to try and experience some rocking climbing thrill. Defeat the gravity and see the beauty behind rock climbing.
Best season for Rock Climbing
Apart from monsoon season when the rock becomes slippery all other season is preferable for rock climbing.
Highlight
| Place | Height | Duration | Fee |
| --- | --- | --- | --- |
| Tenzing Rock | 500 mts | 30 Mins | Variable |
Why travel with Darjeeling Adventure Tourism?
Explore a different way to travel
Local Expert Guide
With the help of our local guide you can travel like an explorer not like a tourist.
Flexible Itineraries
Get customized and flexible tour package with Darjeeling Adventure Tourism.
Great Service
We always aspire to provide our clients with the best service at a cost effective range.
Quick Inquiry