Call Us +91 81455 84286, +91 94348 60604
Himalayan Mountaineering Institute
Himalayan Mountaineering Institute
Himalayan
Mountaineering Institute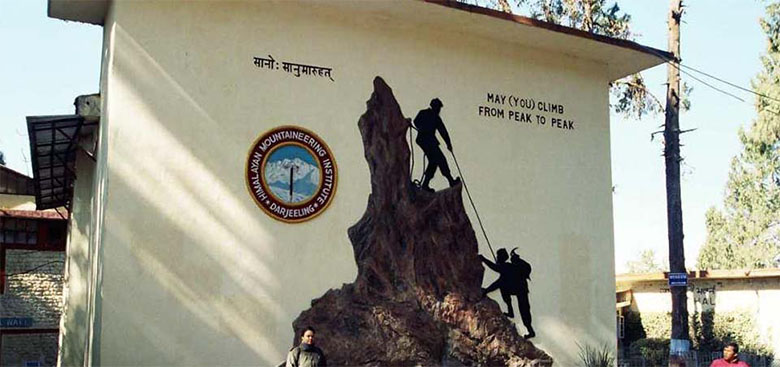 Ever wondered how people conquer the quest of climbing magnificent mountains, what kind of equipment they use and mostly how do they endure their journey towards the peak. If you have all these questions haunting and blocking your mind than Himalayan Mountaineering Institute, Darjeeling is the place for you to get all the knowledge of mountaineering.

There will be no lack of adventure of the mind and body for those who are prepared to venture into uncharted seas and climb unknown Peaks' said Pt. Jawaharlal Nehru during inauguration of HMI. Himalayan Mountaineering was established in Darjeeling, India on November 4, 1954 for all the keen adventurous people who wanted to test their limits and also to encourage mountaineering as an organized sport in India. HMI has the oldest Museum of the country which was established in 1957. It serves as a centre of educational and research on mountaineering activities both for the trainees and research scholars. HMI has a rich collection of models, paintings, sculpture, photographs, manuscripts, autographs, mountaineering equipment belonging to famous mountaineers. The Everest gallery gives a chronological history of Mt. Everest starting from 1852 when peak XV on survey of India Map was found by Mr. Radhanath Sikdhar as world's highest peak and named after Sir George Everest the then Survey General of India. Some important collections in the Museum are a letter from H. H. the Dalai Lama, through which he granted the permission to the first British expedition on 20th December1920, equipment used by Tenzing, Sir John Hunt & Sir Edmund Hillary during 1953 expedition the first successful human ascent of Mt Everest and many more.

HMI restaurant is the only place in Darjeeling where you can taste all different types of Darjeeling tea. Original Darjeeling tea leaves are also sold here. HMI is in a 30 zmins walking distance from the Chowrasta. An amazing place to learn about the astounding history of mountaineering and providing mountaineering course for adventurer seeker with an exceptional variety of tea along with panoramic view of the valley surrounding the institute. Himalayan Mountaineering has something for every visitor making it an ideal place to enjoy ones visit in Darjeeling.
Quick Inquiry