Call Us +91 81455 84286, +91 94348 60604
Dali
Monastery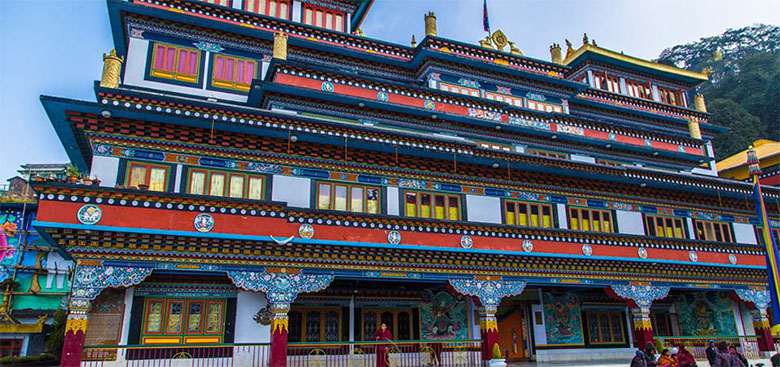 Dali Monastery or Dali Gomba is also known as the Druk Thupten Sangag Choeling Monastery and is about 5 kilometers away from Darjeeling town. Built in 1971 by Kyabje Thuksey Rinpoche, the monastery is known for preserving the age old culture and tradition of the Tibetan monks. Dali Monastery is the head quarters and residence of Drukchen Rimpoche the XII, who is the supreme head of the Kargyupa sect of Buddhists. Dali Monastery is one of the largest monasteries with white buildings built in typical Tibetan style and perched on a steep hill.

The structure is built in the traditional Tibetan style. The building offers a splendid view when one looks at it from a distant. The colors used in the walls are bright and bold which depicts the life and teachings of Lord Buddha. Dali Monastery was inaugurated by His Holiness The Dalai Lama in 1993 and stayed there for 3days teaching the monks about Buddhism in depth.

The best time to visit the monastery is in 5 am - 6 am and in the evening 5 pm - 6:30 pm although you can visit monastery anytime during 7 am -7 pm but during these specified hours prayer session will be going on which let you witness and indulge yourself in the Buddhist prayer and learn more about Buddhism. Dali Monastery has a small library which contains books on Buddhism and philosophical act of life. There is even a café inside the monastery where you can find vegetarian dishes.

Dali monastery is situated in a beautiful location which lets all the visitor fall in a trance, with an ambience so peaceful and view so serene you will never be able to forget your visit in Dali Monastery. Dali Monastery is also home for 200 monks who are learning to lead there life as taught by Lord Buddha. Dali Monastery is where you can know the meaning of inner peace by taking a glimpse in the life of monk. From beautiful art to quiescent ambience Dali Monastery is an ideal place for a peaceful evening time or starting your day by calm soothing chanting of prayers.
Quick Inquiry