Call Us +91 81455 84286, +91 94348 60604
Darjeeling
Toy Train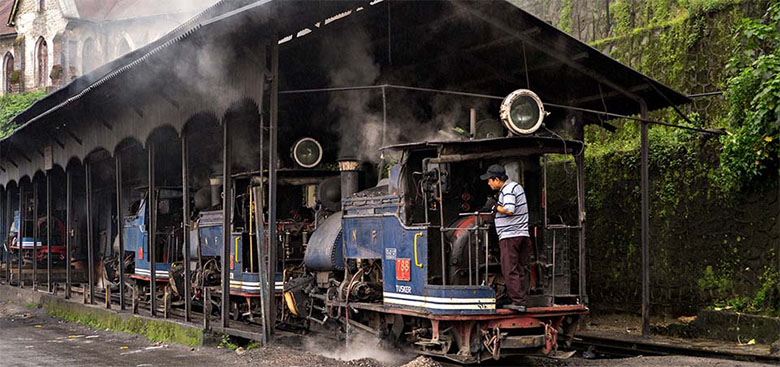 Darjeeling might make you think of tea and romantic lush rolling hills, but it's as likely to make you think of the Darjeeling Railway. The iconic Darjeeling Himalayan Railway, also known as 'Toy Train', is set to be preserved for posterity. UNESCO and the Indian Railway have embarked on developing a 'Comprehensive Conservation Management Plan' (CCMP) for the vintage British-era rail heritage.

Toy train ride in Darjeeling is one of the always most anticipated rides in India, and the visitors are pretty enthusiastic about it. Small locomotive pulling petite coaches through green lofty mountains and tea gardens and if lucky the view of Himalayan range, quite an amazing thing to experience. You can experience the amazing toy train ride in two ways. Firstly, through a Joy Ride Tour it is conducted between Darjeeling to Ghoom. Ghoom is the highest altitude station on the Darjeeling Himalayan Rail track. Altitude of Ghoom is 2225.7 meters (7407 ft). Here the toy train stops for 30 minutes for a visit to Darjeeling Himalayan Railway Museum and the entry charge is included in your joy ride toy tour package. It a tour of 2hrs covering a distance of 14km while making a pit stop in Batasia Loop for 10-15 mins where you get a chance to see a well maintained garden viewing the Himalayan Range and a war memorial.

There are four such round trips in a day, two in the morning half and two in the afternoon. One tour is made in the prestigious steam engine which is quite expensive approx 1200rs per head all first class seats than the diesel engine tour approx 700rs per head all first class seats since they represent the original heritage trains and their maintenance cost is also higher. And the booking needs to be done in advance.

The next option for the train lover is to take the regular Darjeeling Himalayan Railway (DHR) toy train service. Diesel hauled toy trains also run from Darjeeling to Siliguri/ New Jalpaiguri. It also passes through Ghoom, Batasia loop, Kurseong. It is about 110 km, but being narrow gauge and encountering continuous slopes and curves takes about 8 hours and it is a much pocket friendly tour than Joy ride tours ranging from 30rs-400rs according to the travelling destination.

DHR Darjeeling Himalayan Railways or toy train has always fascinated the visitors and attracted them towards the beautiful town Darjeeling land of the scenic beauty of lush tea gardens. Toy trains are one of the best ways to tour around Darjeeling.
Quick Inquiry