Call Us +91 81455 84286, +91 94348 60604
Barbotey
Rock Garden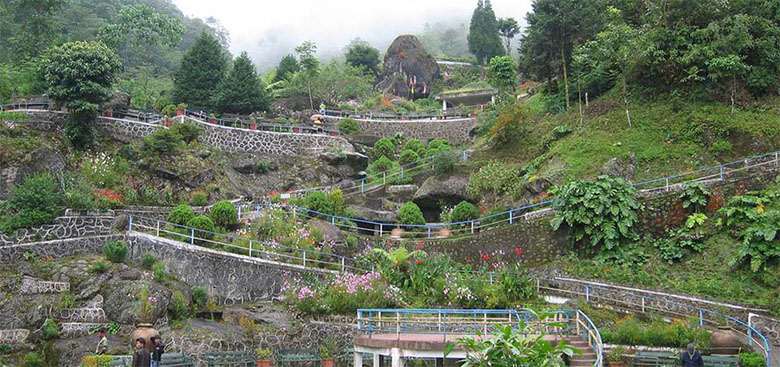 The Barbotey Rock Garden, popularly known as the Rock Garden at the Chunnu Summer Falls is located about 10 kilometres from Darjeeling. A manmade picnic spot terrace around the natural waterfall it's quite a view to see. You have to make a journey of 8-10 km in extremely stiff curvy roads to reach Rock Garden but it add ups to the journey being more thrilling, exciting and enjoyable. With each turning point in your journey you will see the view of Darjeeling in new aspects, and when you reach the beautiful rock garden your tiresome journey will be long forgotten since you will be busy absorbing the serene view in front of you.

Situated below Dali on the adjacent way to Sidrabong Power Station, Rock Garden attracts many visitors. It was made during the political turmoil in Darjeeling so that tourists would see Darjeeling in a different light in the 1980s. It is also known as the Barbotey Rock Garden. This garden was created by Gorkha Hill Council Tourism Department to facilitate and encourage tourism.

Rock Garden offers a beautiful view of a hill stream cascading over rocks along the slope, done up with flower gardens and sitting spaces at different levels. The Ganga Maya Park is further down the road nearly 3 kilometers from the Rock Garden. Mountain stream, past gazebos, clumps of flowering shrubs and trees, lake with boating facilities are available. A trip to Rock Garden is a wonderful way to enjoy the serene ambiance amidst the nature with your loved once. There is an open platform where local people perform their cultural dance during high tourist season (summer and autumn) and entertain the visitors while letting them learn more about their culture.

This nature's paradise is reached after negotiating a series of hairpin bends and a sharp descent of thousands of feet and some may not like their journey towards Rock Garden. But all along the way your eyes will be marveled by the sights that keep you captivated. If in a private vehicle, it might be worth it to pause every now and then capture some good pictures for your memories. The roads are well maintained but if you are travelling in a shared jeep it might be difficult for you to fetch a ride while returning.

Rock Garden is a place where you can sit on a rock while listening to the soothing sound of waterfall and dipping your feet in the cool fresh natural water, what a wonderful way to enjoy the beauty of nature.
Quick Inquiry