Call Us +91 81455 84286, +91 94348 60604
Darjeeling
Himalayan Railways Ghoom Museum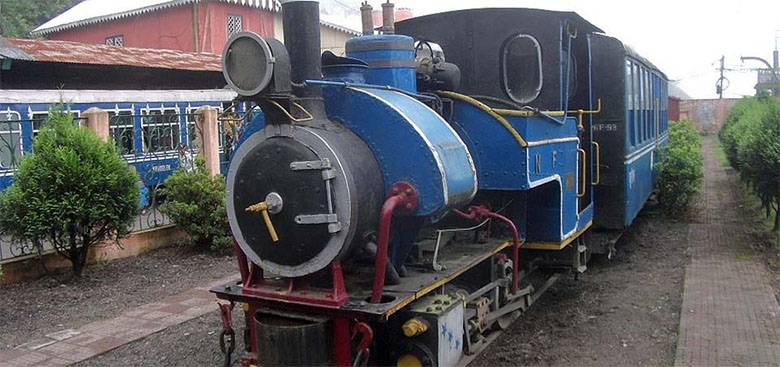 Darjeeling Himalayan Railways Ghum Museum is one of the three museums of Darjeeling Himalayan Railways. It's located at the Ghum railway station premises. The museum room is right above the Ghum station. Ghum (also spelt as Ghoom) is country's highest rail station at an altitude of 7, 400ft. The other two DHR museums are located at Kurseong and Sukna. On the pillars and walls of the train stations at Darjeeling, Ghoom and Kurseong as well as several others, a huge plaque indicates a much-cherished bestowal, that of the Darjeeling Himalayan Railway being accorded the UNESCO World Heritage status.

In the year 2000, the Ghoom Museum was established and opened to the visitors to showcase the heritage of Darjeeling Himalayan Railways. Right opposite the Ghoom platform, there is the entry gate to the museum premises. As you enter through the gate, there is an open space with a small garden around. For all the train buff it a place where you can acquire all the knowledge about the toy train and take a close look at the engine of baby Sivok, the oldest toy train engine of Darjeeling Himalayan Railways that started its operation in 1881 providing the first ever rail link through the mountains.

Although the museum is small but it contains all rare historical artifact from the picture of construction of the railways station to the spare uniform. You can also see several items that were donated by the ex DHR employees and many rare photographs of the Toy Train. The museum's authorities are also planning to include audio visuals too take the visitor back in time when the toy train was first constructed. There will also be slide shows. Computerized Kiosks will be put up to share more information with the visitors.

Knowing about the renowned Darjeeling Himalayan Railway or the nick name given due to its size 'Toy Train' from the starch in DHR Ghoom Museum can be quite fascinating and the weather of the Ghoom station add on a mystical feeling since most of the time its covered in fog and if the sky is clear you can see the green valleys. If you are taking a joy ride tour the Museum tour will be included in it but if you are not than you can visit the Ghoom Museum by paying a mere amount of 20rs and the museum is a 30 min car ride from the main town Darjeeling.
Quick Inquiry