Call Us +91 81455 84286, +91 94348 60604
Batasia
Loop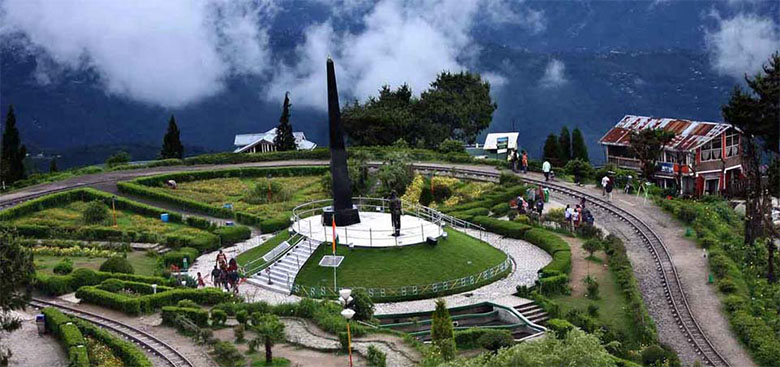 Considered amongst one of the best architectural feats of the country, the Batasia Loop (A Windy Place) was constructed to make a 1000 foot fall from the high Ghoom Station navigable for a toy train. When you take a ride to Darjeeling in the train, you can enjoy breathtaking panoramic views of Darjeeling, without even realizing your train has descended such a great height, thanks to the mild slope.

Even if you are not taking a train ride you can hire a cab or take a shared jeep from Darjeeling to Batasia Loop. It's 5km (3.1 miles) from Darjeeling Town and located just below Ghoom station. Apart from the scenic beauty that Batasia loop provide it has a history behind it about the soldier who sacrificed their life after the Indian independence after 1947 and one can learn more about it from the war memorial which located amidst the Batasia Loop. From the Batasia Loop, the tourists enjoy a panoramic view of Darjeeling town with the Kanchenjunga and other snow capped mountains in the. This spot is also the photographer's paradise even if you are not an expert at taking photographs Batasia Loop has a unique charm in it that makes all the pictures looks phenomenal. The place also has an Eco Garden providing information on organic farming and plantation in Darjeeling.

Panoramic view of the Himalayan range in beautiful eco garden surrounded with both seasonal and perennial flowers, shrubs, with a touch of war history Batasia loop surely a must visit place during your trip in Darjeeling. And you can even color yourself in the spirit of Darjeeling by wearing rental traditional clothes. Batasia loop is the only place where the legendary toy train takes a 360° loop. The weather at the Batasia Loop is wonderful as its chill and sunny and windy with sudden, occasional drizzles, which is a wonderful hilly experience that all Darjeeling tourists can experience.
Quick Inquiry