Call Us +91 81455 84286, +91 94348 60604
Lama
hatta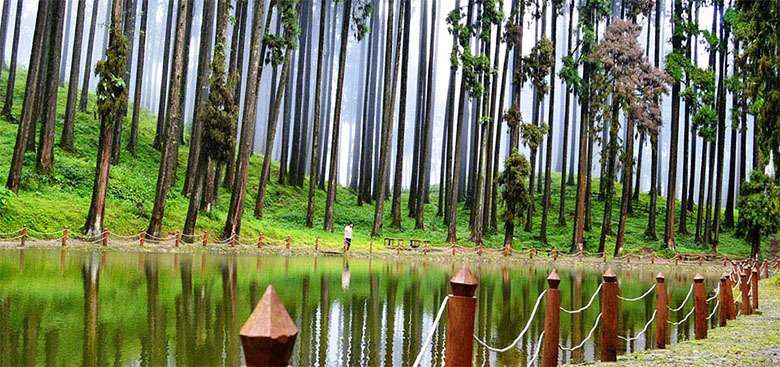 A small picturesque village located at an altitude of 6800ft with the most mesmerizing view of Mt. Kanchenjunga has now become a new hub for all travelers attracting them with the most serine ambiance and exquisite view. Lamahatta is a small village located 23km away from the main town Darjeeling. This sleepy village has been developed as an eco-tourism place in late 2012. Lama in Lamahatta stands for Buddhist monk and Hatta for hut - abode of monk.

Lamahatta is a calm and peaceful place with Pine trees standing majestically with the looming Mount Kanchenjunga in the fore front. The Buddhist Prayer Flags fluttering at the slight breeze were 500 years old Buddhist Monastery is situated just 20 min. walks. The inhabitants are mostly tribal Buddhist people like Dukpas, Sherpa, and Yalmoos. Lamahatta is famous for its well manicured garden and parks.

The garden is spread over a wide expanse, surrounded by pine forests containing numerous seasonal flowers, as well as several rare and exotic species of orchids. Lamahatta is a place where you find yourself blending with nature. Trekking route has been build for the all the people who likes to dwell amidst the nature leading the dwellers through the pine tree maze to two beautiful ponds locally called "jore pokhari" (twin ponds). Seats at vantage points have been placed with a watch tower overlooking the majestic Mt. Kanchenjunga as well as the Sikkim Hills, the River Teesta and the River Rangeet. Walking through coniferous forest trail, spending time watching the mountain range high above, looking for an exclusive bird whose song will blow your senses a perfect way to spend your weekends far away for the rambunctious city life. You can visit Lamahatta throughout the year. Be that in May, in the event that you are attached to blossoms then be at Lamahatta amid winters, when the blooms are in full sprout and the atmosphere is the most helpful.

Immerge yourself in the solitude of beautiful surrounding amidst the nature. Lamahatta is the place where you can intercept with silence. A place where you can see the beautiful Himalayan snow capped mountain in the morning and sky full stars at the night making Lamahatta look like a mystical land. Experience silence and beauty of Nature combined in Lamahatta a perfect getaway from hectic schedule.
Quick Inquiry