Bengal
Natural History Museum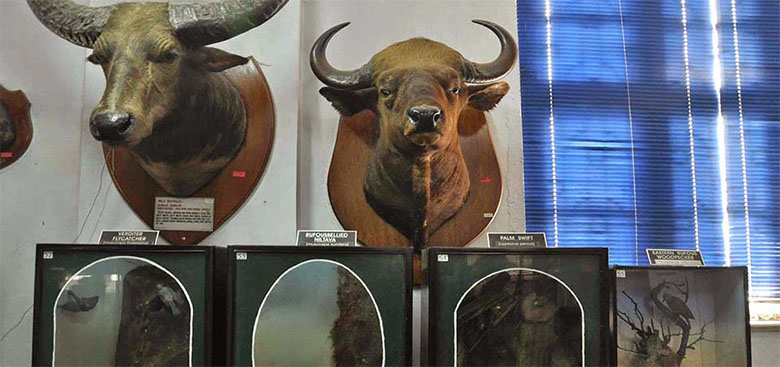 Bengal Natural History Museum is a historic place to learn more about the animal which dwell in the Himalayan Region can be an amazing experience for both animal lover and history buff. Situated near Chowrasta, right in the centre of the alluring Darjeeling town, Bengal Natural History Museum established in 1903, it provides visitors with a wonderful view of rich flora and fauna of the hill resort and its surrounding areas. With more than 4300 specimens Bengal Natural Museum is a haven for all naturalists. Bird species, reptiles, and other animals of the Eastern Himalayas are displayed at true to life altitudes. The butterfly and beetle section merits special mention.

All the specimens in Bengal Natural History Museum are of real creatures that were captured and preserved. There is a special taxidermy unit in the museum which specializes in curing, staffing and rendering the birds and animals for display on the glass cabinets. This unit has been there right from the inception of the museum. The birds section include specimens of owls that include Northern Spotted Owlets, Himalayan Brown Wood Owls, Northern Brown Fish Owls, woodpeckers, pheasants, fly catchers etc displayed in natural settings on the tree branches. There are over 822 bird specimens present here, totaling to over 405 species, including two foreign species that were gifted to the museum. The museum boasts of an impressive collection of mammals as well, with 67 specimens of mammals to be found here, such as the clouded leopard, panda and the flying squirrel. Several specimens of estuarine crocodile, widely held responsible for the greatest loss of human life in Asia, are also seen here.

Apart from this, there are 35 snake species out of a total of 76 species available in this area. There are also 57 species of fishes displayed in the museum. Some of the other interesting variety includes the Tibetan fox, Tibetan Lynx, heads of wild buffaloes hanging from the walls. There are panthers or leopards as well adding up to the glory of the place. Two large ivories are also on display. Bengal Natural History Museum is a perfect place to learn more about the flora and fauna of the region. Apart from animals and birds, the Bengal Natural History Museum is a storehouse of many colorful stones, which are in their mineral form. There is also a small library inside the museum comprising of few valuable books around 125 volumes of 'the fauna of British India'.

With not many people venturing towards the museum, Bengal Natural History Museum is a perfect place to spend a quiet evening learning about the flora and fauna. So many specimens of butterflies and moths around 608 different species of butterflies and moths apart from 1104 types of other insects which make you think were they all real? You can know about them in Bengal Natural History Museum where time has stopped for all the animals and plants.